This month, Team Hopkins very own Hutch Adams was invited by Sgt. Enfinger MAIT (Martial Arts Instructor Trainer) of the U.S. Marine Corp. to teach Self Defense Jiujitsu techniques to a group of MC-MAP instructors. MC-MAP stands for "Marine Corps Martial Arts Program" which is a combat system that combine existing and new hand to hand, as well as close quarters combat techniques. The program began in 2001. It trains soldiers in unarmed combat, edged weapons, weapons of opportunity, and rifle and bayonet techniques. It also stresses mental and character development, including the responsible use of force, leadership, and teamwork. Click the video to watch and learn how Marines are trained to be strategic warriors.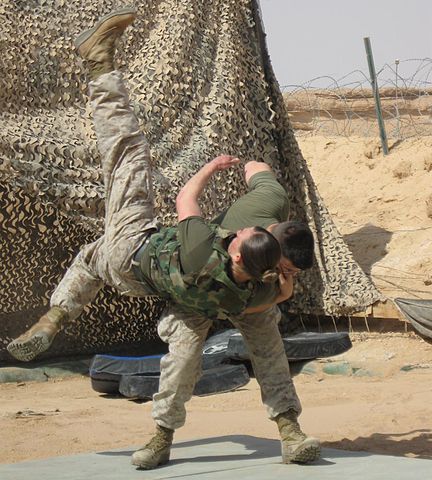 Hutch Adams teaches the self-defense classes at Gracie Downtown Pensacola on Palafox. He's a member of the Velha Guarda Jiu-Jitsu Association, founded by Professor Allen Hopkins, a 3rd degree black belt under the Rickson Gracie lineage which is also known under the moniker of Team Hopkins. We asked him to tell us a little about himself and this is what he has to say:

"I've had the privilege of receiving soon to be 9 years of instruction under Tony Baker the president of Team Hopkins (Pensacola academy), Pat Langan the Vice-President and Senior Technical Advisor of Team Hopkins (Mobile academy), as well as private instruction under Professor Hopkins (Hattiesburg academy) with emphasis on weapons. I'm an average guy. A single father for 18 years. I manage a 15 person Engineering and Design department for a growing international heavy industrial construction company. I have no fancy "cool guy" certifications nor claim anything to that effect. I am merely fascinated with the simplicity and efficiency of the Brazilian Jiu-Jitsu that I have been taught. My official introduction to Jiu-Jitsu was in 2005 through Pat Langan when I signed my then 8 year old son up at his academy. By 2008, my son was moved into the adult classes. Pat could sense my intrigue and talked me into trying it. Since then my Jiu-Jitsu journey has been - and I assume will always be - one of my greatest, most challenging, and yet most fulfilling never-ending quests as a human being. In 2015, I moved to Pensacola and joined our affiliate academy at Gracie Downtown on Palafox. Soon after I was asked by Tony Baker to help provide instructions for specific self-defense classes each week. I humbly accepted his offer. Through these classes is where I was fortunate to meet Sgt. Enfinger. We soon began discussing the similarities of the MC-MAP curriculum and our Jiu-Jitsu curriculum. At his invitation, I provided a very small snapshot of our curriculum as a supplement to their existing skill set. The training concept emphasized that fights start standing, and going to the ground should be on your terms and at your discretion."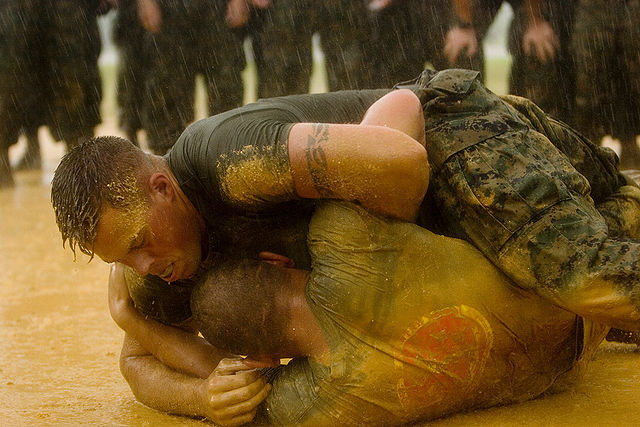 Not only is Sgt. Enfinger a Black belt in MC-MAP, but he is also a full time student of Team Hopkins Gracie Pensacola academy since January of this year. He requested that Hutch teach specific defensive tactics that were not addressed in the MC-MAP curriculum. One technique was defense from knife attack from the front at middle of body into a take down then securing the knife. Another technique was a defense from a Gun to the side of the head.

Hutch explained grips; their strengths and weaknesses. Then he taught how to parry a straight jab, to torso control, blocking opponent's far side foot, to take down. He also covered variations of possible finishes from either back or side control. Hutch was thankful for the opportunity to share the Velha Guarda Jiu-Jitsu that he is so passionate about.