The actress known as "Eleven" in Stranger Things has recently played in the new "Enola Holmes" on Netflix starring Millie Bobby Brown, Sam Claflin, with Henry Cavill and Helena Bonham Carter.
The film incorporated martial arts (Japanese Ju-jitsu) in many of the fight scenes. Both Millie Bobby Brown and Henry Cavill are no strangers to Jiu-jitsu, both of them have trained prior to this new project.
Millie trains at Phoenix MMA U.K in London, England under black belt Trevor Chamberlain. This photo is from a few years back when she received her second stripe in Brazilian Jiu-jitsu. She also trains in boxing at the same place.
She told Vulture, "I train to box. Obviously I don't want to do it professionally. It's at Phoenix MMA U.K., down in London. It's a great gym, and I have lots of friends. Because I'm homeschooled, I get kind of lonely sometimes. So I like to go to the gym. I do Thai boxing Mondays, jujitsu Tuesdays and Thursdays, and Wednesdays I do boxing with Marc Plunkett. I absolutely love it. I actually have a punching bag right outside in my garden. I'm obsessed with working out."
Henry Cavill is most popularly known for his roll as the new Superman. He obviously knows how to stay in shape by lifting weights and running, but his favorite cardio is Brazilian jiu jitsu.
Why you might ask? Well in an interview with Men's Journal Henry explained "When your doing Jiu-Jitsu, you can't think of anything but Jiu-Jitsu. You have to fully focus on it, or someone chokes you out!"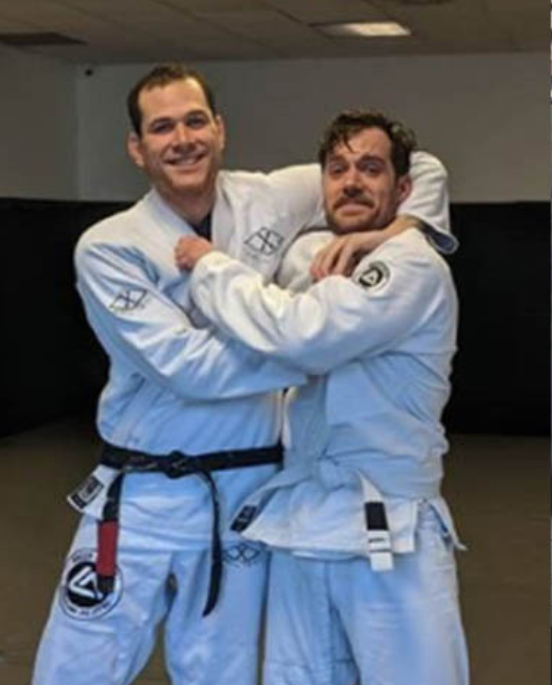 Cavill trains Gracie Jiu-Jitsu in London with the legend Roger Gracie.
Watch this video for a behind the scenes look: