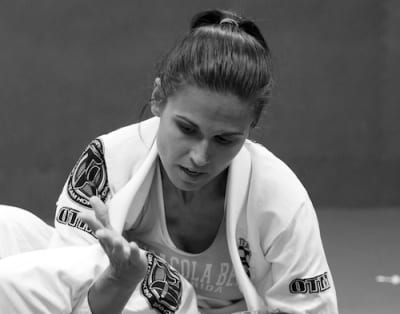 Monica Champagne
OWNER/ FITNESS INSTRUCTOR/ HEAD INSTRUCTOR OF FEMALE CLASS
BJJ 3rd Degree Purple Belt under Prof. Allen Hopkins & Mr. Steve Miller
1st Degree Shotokan Karate Black Belt under John Champagne
Associates degree of Child & Family Studies from University of Louisiana at Lafayette
GOALS: Share the benefits of Jiujitsu with more women
Monica found martial arts through her husband who had been training for awhile. She says she started because she couldn't let the guys have all the fun. After taking her first step on the mats she was hooked. After years of training she earned her Black Belt in Karate in 2010. She also started Brazilian Jiujitsu in 2009 and is currently a purple belt of Team Hopkins.
Monica regularly instructs a women's only class. Her favorite thing about instructing is being able to inspire women to do martial arts. Her favorite aspect is the self defense because it uses leverage, strategy and technique over brute strength. She's a born leader who inspires other females to conquer life's challenges through martial arts. She offers a non-threatening environment which is ideal for beginner female students to build confidence by learning from an experienced female instructor.
Her goal is to show other women (including her daughter) that martial arts is also for women and not just the guys. She helps others develops friendships that go beyond the mat.