Join Us This Year For The Best Summer Camp In Town!
Don't miss out on our exciting KICK'N Summer Camp at Champagne's Martial Arts in Lafayette. We're hosting students ages 5-12 for one action-packed week! Your child can enjoy themed days that are full of games and activities. And we handle everything!
Our 2018 Summer Camp will be held July 9 - July 12 and is open to members and non-members of Champagne's Martial Arts, so book your spot today!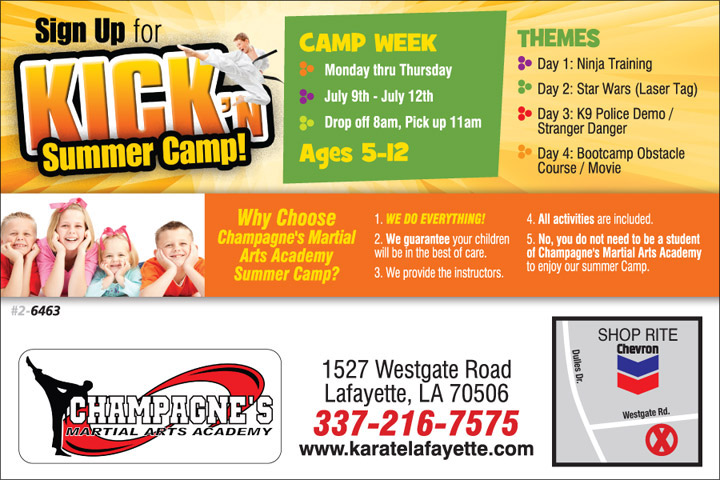 What's Included In Our KICK'N Summer Camp Programming?
We're committed to providing your child with high-quality training in everything we do - and our Summer Camp is no different. Students from all across Lafayette are invited to join us for supervised fun and exciting physical activity. No martial arts experience is required!
2018 themes include:
Day 1: Ninja Training
Day 2: Star Wars AND Laser Tag
Day 3: K9 Police Demo/Stranger Danger
Day 4: Bootcamp Obstacle Course/Movie
Our Summer Camp programming is a mix of high-energy fun and vital mental development. We push students to persevere through challenges and take pride in everything they do.
Here's What You Need To Know:
Drop off is at 8 am
Pick Up is at 11 am
Every activity is supervised
No snacks or lunch are necessary
Reserve Your Spot Today For The Best Summer Camp In Lafayette!
Don't miss out on our exciting Summer Camp in Lafayette! Our team is proud to host students across our community for a memorable week of fun.
Reserve your spot or learn more about Champagne's Martial Arts by simply filling out the short form on your screen!